As the sun grows warmer and the Mississippi River Commission prepares for its annual high-water inspection trip, we continue, as a country, to ponder the Mississippi River and how such a large and valuable water resource should be managed.  Complicating the management issue is the role the Mississippi River plays in our economy, communities and collective cultural understanding.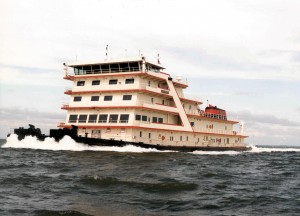 This is why the Mississippi River Commission, since it was charged with overseeing the Mississippi River and Tributaries Project in 1928, has had among its duties semi-annual inspection trips to observe flood control mechanisms and to hear from the public and key stakeholders. The goal of these sessions is to maintain dialogue and "exchange viewpoints and ideas flowing between the public and the Corps."  This year's meetings will be held in Cape Girardeau, Memphis, Natchez and Baton Rouge during the week of April 8.
Since their inception, these meetings have taken the form of public hearings. They've also, out of early 20th century necessity, been conducted with a river boat or barge traveling from location to location, collecting the concerns one city or port at a time. While the public comments are collected and published, there isn't a mandate to do anything with them. At the time this plan was put into place, 1928, this was the best method available.
But that's no longer the case. Technology and a growing body of knowledge about stakeholder engagement are supplanting the public hearing process. With the ability to simulcast and the tools to have representation of all interests concurrently engaged, the Mississippi River Commission needs to move in the direction of holding a whole-river dialogue.
What does a whole-river dialogue offer the Mississippi River that public hearings don't? Using the Principles of Engagement agreed to by dozens of professional public engagement organizations, a National Dialogue ensures inclusive, informed and whole-river-focused conversation. Same-day, key-pad-assisted polling delivers a comprehensive picture of priorities and preferences of the different River sections. A focus on the future, instead of reviewing past conflicts, allows engagement in a vision-oriented context. Perhaps, most important, a whole-river dialogue would enable the Mississippi River Commission to find consensus for integrated management options based on the Mississippi as America's great river system.
River experts now know that decisions about water management must address river basins as systems and include their economic and cultural aspects, as well. Today, science can monitor and model the whole river. Health indicators,  water quality data, and economic impacts can be uniformly collected. International river professionals advocate the management of rivers as systems since it's been proven that practices in one portion of a river affect other portions, especially downstream. Nowhere is this more evident in the U.S. than in the Mississippi River watershed.
Meanwhile, the issues of the Mississippi River grow in their complexity.  Are spillways viable management tools? Are wing dams? Should development and farming continue to take place in floodplains? What should the order of priority be when considering the River's management? Of course we say the protection of life. But when danger isn't eminent, whose life gets protected: commerce, agriculture or fishing, the flyways for waterfowl, the security of native fish, people living upstream or down? These, and many other factors, are part of today's river system management discussion. A whole-river discussion could inform the Corps' decision-making beyond one location or one particular engineering solution at a time.
So, if ways to overcome local differences and build whole-river or whole-watershed approaches exist, what's holding us back? Habits, for one thing.  Organizational inertia for another.  It will take a sea-change to abandon public hearings, budgets and crisis as a way to make policy for the Mississippi River. But it's possible to change the process of gathering public input and achieve a more holistic outcome. While there's expense involved in insuring representative, river-wide input, it pales in comparison to building even a small dam. And the end product stands a better chance of including consensus not conflict.
So as the Mississippi River Commission makes this year's annual high-water inspection trip, turn out for their meetings and give them your views about security and safety on the Mississippi River in your community. But also urge them to take advantage of communication technology and newer forms of stakeholder engagement for the good of the whole Mississippi River. They needn't be held back any longer by the physical limitations of traveling to only a few places.  And they could more effectively address their long-term value – to maintain an exchange of ideas flowing between themselves and the public.